Sharing content samples has been added to Frankfurt Rights.
With this functionality you can share samples with members and non-members to easily give them a peek into your titles.
There are several ways to upload content samples. Once they have been uploaded, you can share them with anybody by creating a link through one of the following methods:
From the details page of a title, click on "Share Content Sample" and follow the instructions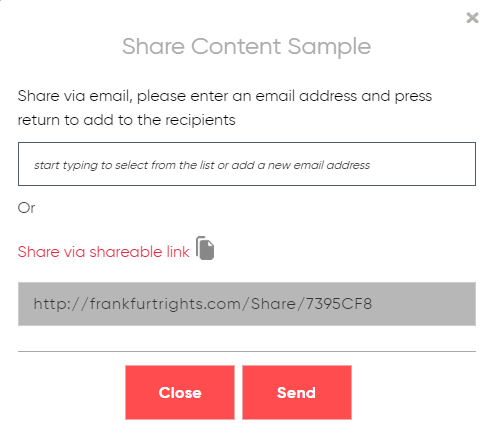 (either start typing a name for any user who has an account on Frankfurt Rights, or by copying and sending the recipients the link. This will work for anybody, not just Frankfurt Rights users.)
You can also visit the new "Content Samples" tab from your dashboard. Here you can not only manage samples from the overview but by clicking the grey icon next to the title of a book, you get to the menu for sharing again, the icon is also a handy indicator for which books have or don't have a sample already.
Another useful page is the requests page, where you can manage all the requests for content samples and either decline the requests, grant access to a single request only, or grant a user access to any content samples on your titles.